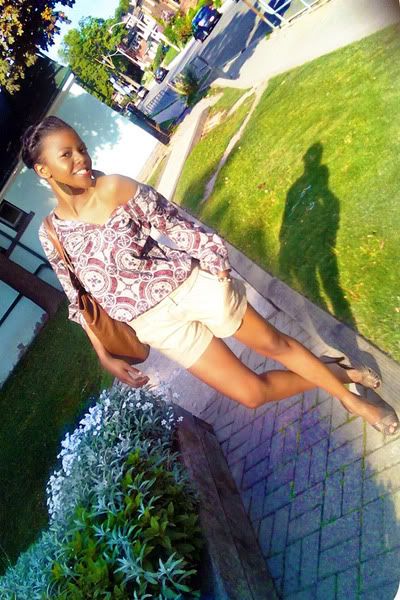 [gender.female]
Where are some of your favorite places to purchase jewelry?
"One particular store I love is Ardene's (it's a jewelry store). However, I would say my jewelry is a mixture of different stores. I'm not someone who heads specifically to certain stores to purchase jewelry. I just land on great pieces while I'm looking around."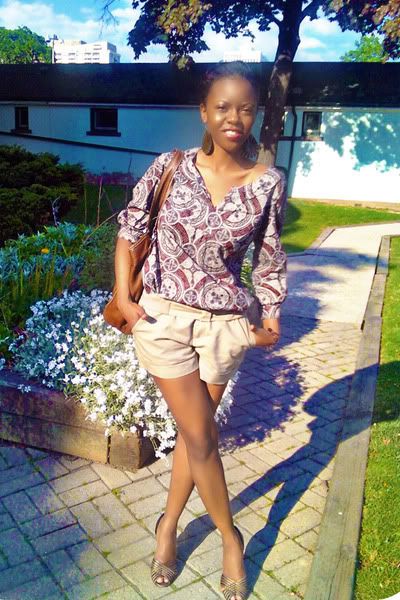 How important is price when shopping for clothing?
"It has to be something that I can afford. Why buy a $300.00 dress when I can get six pieces for the same price? I'm not someone who is particularly interested in having designer brands, just because it is Louis Vuitton. Style and prestige are two different things."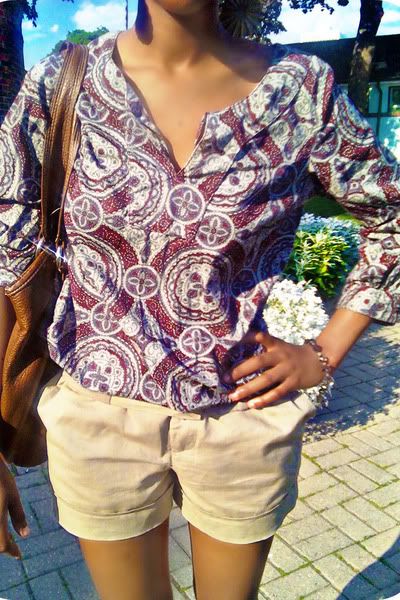 How do you decrease the pain associated with wearing high heels?
"Oh my, no remedies... Beauty is PAIN, just have to endure it!"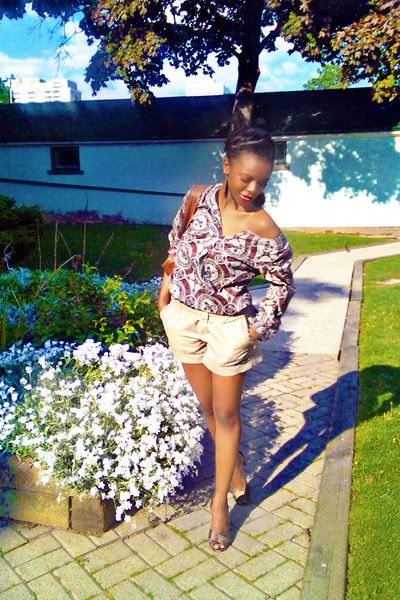 "Bold colors."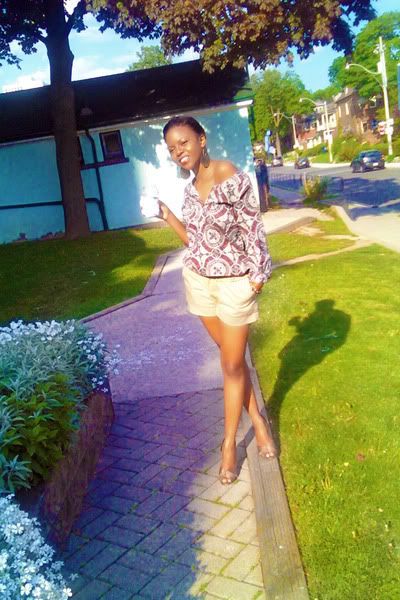 Does hair play a role in your sartorial selections?
"Definitely. Hair is a woman's crowning glory."
Anything Else?
"My blog:
http://barbiousfashionblog.blogspot.com/
."



S

porting a superb geometric plum and ivory print blouse, today's beautiful nista understands how to make patterns work in her wardrobe.
Notice how the rest of her outfit is comprised of neutral hues –wheat shorts, charcoal shoes, and a cognac bag. Since, the bold and vivid top is doing all of the work, she tempered it with subtle, yet elegant accessories. Every nista knows balance is one of the cardinal rules of fashion. Generally, head to toe print is not only unflattering but tawdry.
Also, when wearing a patterned top, keeping the jewelry minimal is best. No necklace is needed in this instance. A chic and simple bracelet or ring will do. Our exquisite nista's chocolate globe earrings add a charming and casual touch.

Still not convinced you can make it work? Start off slow. Don a fabulous leopard print flat, grab a vintage floral handbag, or drape on a plaid scarf before hitting the office.



Do you like prints?
What is your favorite print?
How do you wear prints?