How did you get interested in fashion?
"My interest in fashion began in eighth grade when everyone but me read magazines like, Vogue and Teen Vogue. After that I got subscriptions to nearly every fashion magazine I could afford. By ninth grade, I really got into fashion and I signed up for Chictopia.com as soon as it opened! From there, my style has changed and matured!"
How do you feel about knockoffs?
"Knockoffs that are TOTALLY obvious like a Dooney & Burke purse that has D&V instead of D&B bother me. I actually used to have one of those a long time ago."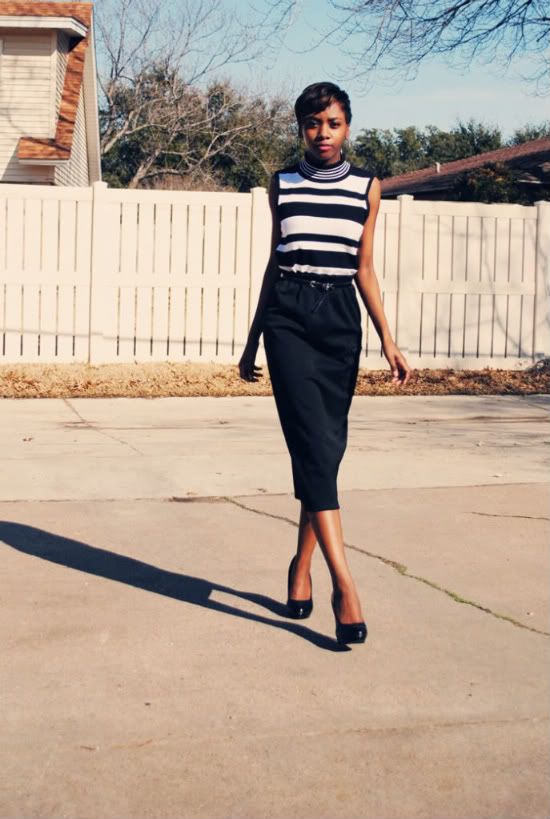 What films or television shows inspire your style?
"I'm actually really bad at getting inspiration from TV and movies. I'm not a movie person. But I do love the movie Pretty Woman. It fuels my obsession with the nineties."

How careful are you with clothes?
"I think I'm about as careful with my clothes just as much as any girl would be. While walking in spike heels, I avoid cracks in the pavement at all times. I only wash my jeans or pants after I wear them a couple of times."

How long does it take you to get ready?
"I spend way too much time getting dressed mainly because I don't pick out my clothes the night before. While I'm trying stuff on, I'm surfing through inspiration on lookbook.nu and Chictopia.com. It's a bad habit. The days I prepare my outfit the night before go great most of time -or I just end up changing everything I start with; and then there's my hair...which takes forever."
"Thank you so much! That was fun!"
Check her out at:
je suis tiana b.
S

earching the racks of your ever so modest closet for a chic piece that never goes out of style AND matches everything? Well, look no further than those lovely hues in the neutral clan. That overlooked grey pea coat, forgotten white silk scarf, neglected black wide leg pants, and castaway brown ruffled blouse are all dripping with oodles of fashion potential. With her two show stopping ensembles, today's stunning nista helps us understand how to effortlessly master the art of combining neutrals.


How to Wear Neutrals From Head to Toe
By sporting an oxford shirt and fanciful skirt in her initial look, she proves ivory and sky blue are simply divine together. Also, note how the buttons of her blouse harmonize with her skirt. In the sartorial world details are where the magic happens. Shimmering belt buckles, handbag hardware, handy zippers and other notions provide overlooked opportunities to make an outfit stand out from the crowd.


Contrasting colors make a powerful fashion statement. Of course, all bona fide fashionistas understand this technique –our stylish lady is no exception. That's why she slips on those too cute ebony tights to pop against her snow hued skirt. When it comes to neutrals, experiment with a paler hue like pearl and cream against a rich navy or deep chocolate for dramatic effect. Our nista's camel colored brim diva hat offers a hint of glamour and excitement; while her dapper black blazer and sleek cognac belt perfectly tie everything together. As you can see, she stylishly turns that pesky myth of the dull and boring all neutral outfit on its ugly head.


In a previous post, we discussed the many ways to wear the color sable in order to create an air of sophistication. Today, our beautiful nista furthers that conversation. The epitome of classic chic in her second look, she sports super stylish black apparel with slits of ivory –perfect for a day at the office. The black and white horizontal striped sweater tank makes a striking visual statement; while her must have ebony heels and timeless pencil skirt aptly highlight her slender silhouette. By throwing on an urbane leather jacket for those chilly mornings, she's ready to take on the world.

Committed to bold colors, so all neutral attire not your style? Experiment with a funky ebony sandal or perhaps a camel fedora to tone down a vivid outfit while adding a bit of structure.
Do you like to wear neutral colors?
What are your favorite neutral shades?