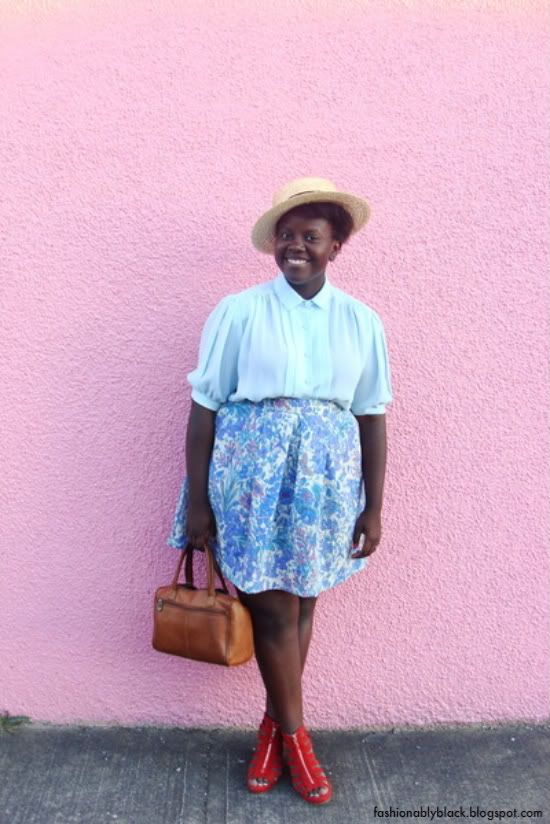 [gender.female]

Any current fashion cravings?
"For fall, I've fallen in love with rich, 70's jewel tones. I really like amber and rust paired with nubby knits. I am also loving the 'return' of neutrals. I'm usually more of a brights kind of girl, but I like the refined direction a lot of stores and design houses are going in."
What are your wardrobe staples?

"You will always find me in either a dress (most likely patterned and thrifted) or a skirt/shirt combination. A couple of staples in my wardrobe right now are a Urban Renewal (from Urban Outfitters) trench coat that I got on sale the end of last spring. Since moving to the city (and giving up my car...aka walking everywhere) I have been in love with wedges and flat shoes. I've got orange suede wedges from H&M in heavy rotation, and a pair of lace-less black and white oxfords that I am wearing with everything! Oh, and I have a thing for old leather belts; I've got several."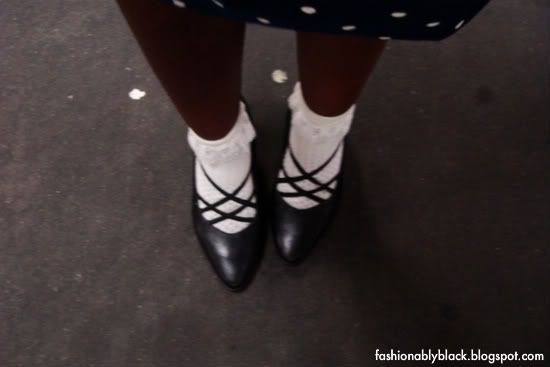 Where do you draw your inspiration from?
"My biggest source of inspiration is other bloggers! I have close to four hundred blogs on my Google Reader and I'm always looking for more amazing dressers. The internet is an infinite source of well executed (and well documented) outfits, and I usually come away feeling really inspired after reading all my favourites. Magazines have also been a source of inspiration, my favourite (and I've read a lot) is hands down Lula Magazine. It is the perfect amount of sweet whimsy and coy sassiness. I love it and cherish each issue I own."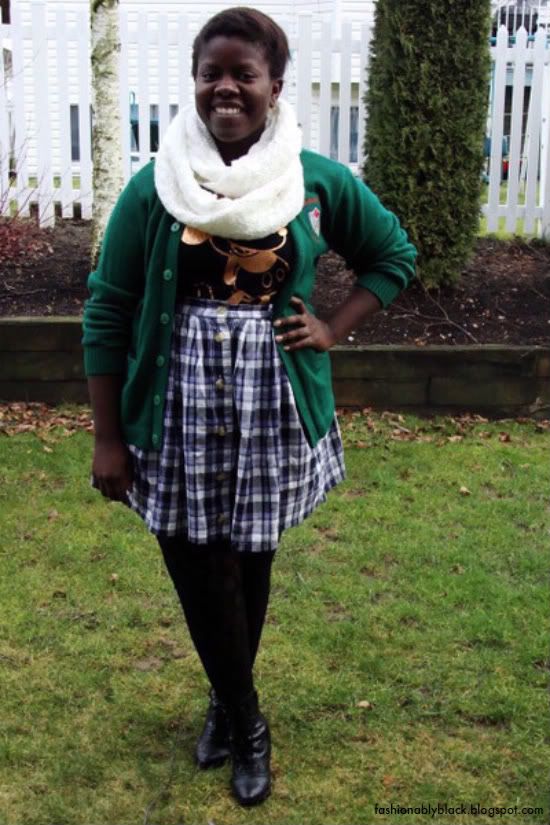 Best compliment ever received on your style?
"Any time someone comments on my blog or an outfit in real life, it is a huge compliment. My favourite compliment so far would probably be Hannah from Hannah and Landon telling me she 'really liked my dress' when I was in NYC during the spring for Chictopia's Fashion Week event! I adore her blog and her style (she's in my top five), so it was quite surprising to hear that she liked something I was wearing!"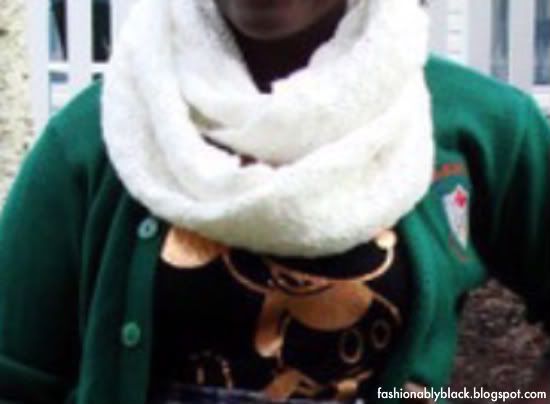 Worst thing you've ever worn?
"It's a tossup between tight, stretch beige flare trousers and a pair of unfortunate pink capris. Both were extremely unflattering and to this day I am puzzled as to why my fourteen year old self thought they were a good idea. They weren't."
F

or the style conscious lady, skirts are perfect for experimenting with different looks above the waist. Opting for a timeless oxford shirt in ivory like our beautiful nista's opening outfit is a great choice. The pleating adds a peppery, unconventional edge to this classic work wear blouse; whereas tucking it in exudes a trim and dapper vibe. Covering her crown is a charming wide brim straw hat, which provides an extra edge to her ensemble. Beneath the belt, the enchanting floral print skirt in indigo, lilac, and bone is ever versatile and always in season. Naturally, where would any outfit be without some killer footwear and a fab purse? This lovely nista does not disappoint. Her scarlet peep toe cutout wedges reveal just enough skin, making these sexy shoes daytime appropriate. Plus, a chic cognac bag is sure to store all her must have career basics and is effortlessly translatable to evening.

Wearing pants is sure to be an afterthought upon viewing our gorgeous nista's next ensemble. Her sapphire A-line skirt gives way to a vintage vibe via a polka dot design throughout the garment, plus the mustard rope belt is ideal for a minimalist aesthetic. Pairing this leg exposing garment with a black and white horizontal stripped shirt toughens up this whimsical look as the cream lace cardigan works great as a top layer. To complete this garb, her feet get a treat with those ebony strappy pumps –always a style staple in any fashionista's wardrobe. Plus, those adorable ruffle socks prove they can be as cool as their over the knee counterparts.

The classic appeal of a skirt comes to life in our nista's final look. This plaid A line number is the embodiment of effortless sophistication while her hunter green cardigan offers a chic understated look. Layering with a white chunky scarf keep her stylish yet warm on chilly mornings. Slipping on one of fashion's favorite garments –sable tights, along with black lace up ankle boots, ideal for stomping around the streets or hustling off to work, not only keeps our nista cool, but the monochromatic vibe adds mucho length to her legs.


Thanks to Wangari from ----->Queen of my Playground for recommending this fab stylista!