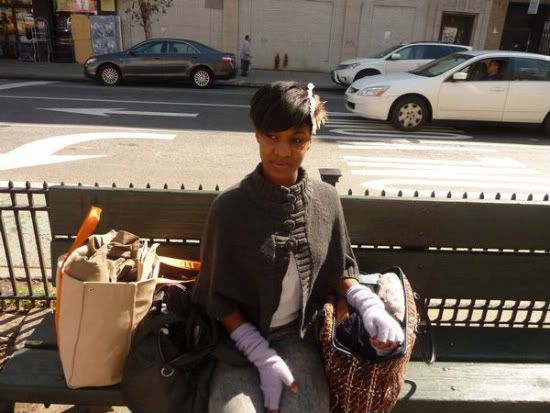 How did you get interested in fashion?
"Well I'm not interested in fashion at all. I'm more into others and my very own personal style. It seems more important to me than fashion. I feel like fashion has lost its meaning and there's nothing exciting about it

anymore. If it were up to me, everyday people would walk runways instead of starving young women with no sense of personality. My dad is a stem for my interest in style though. At seventy seven he still dresses to impress, matching down to his socks and watch. My father instilled into all his children the importance of personal style. My mother, also the creative genius has wonderful style. If anything, they are the reasons I'm interested in style, fashion does nothing for me."






Do you have anything in your own closet that seems to work for almost any occasion?
"My earrings definitely. I wish I started to make them earlier, for they would have saved many of my outfits. But I'm glad I started. When I'm too tired to think or put effort into an outfit I count on my earrings to save the day and they never fail. Most of the time I can base an outfit solely with my earrings. They are the perfect accessory; an earring and necklace combined, they do wonders. I wear them everywhere I go and they're always appropriate, since I have some that are more dramatic and some that are toned down. They work for all events, with the right outfit; I can make them classy or funky. I love that I make them , so I can never run out. You can check a few of them in my shop

http://www.artfire.com/users/makeithappen

or on the blog

http://wrappedinbows.blogspot.com/

.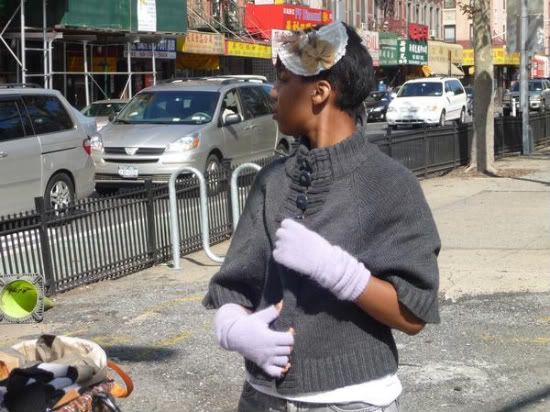 How many pieces of clothing do you own?


"I feel so blessed with my wardrobe. As a little girl I never had variety, we couldn't afford much when the beginning of the school year came around. I would have to scrape of last year's clothes and do with that. When it came to what was on my feet, it was just one pair for the year, two if I got lucky. We always knew how to shop, that's a skill I have always had. Even though I couldn't afford much, me and my sisters still managed to look decent and well put together. My father wouldn't have it any other way. So, as I got older I found ways to make due and my style blossomed from then. I have an extraordinary wardrobe with so much to choose from. I have so many clothes ,especially when it comes to my winter attire, there are still pieces that I have not yet worn. If I could'nt go shopping again I wouldn't be upset; I'm so grateful for what I have now. I can live off of it for awhile. So it must be safe to say that I have too many clothes, if that's possible."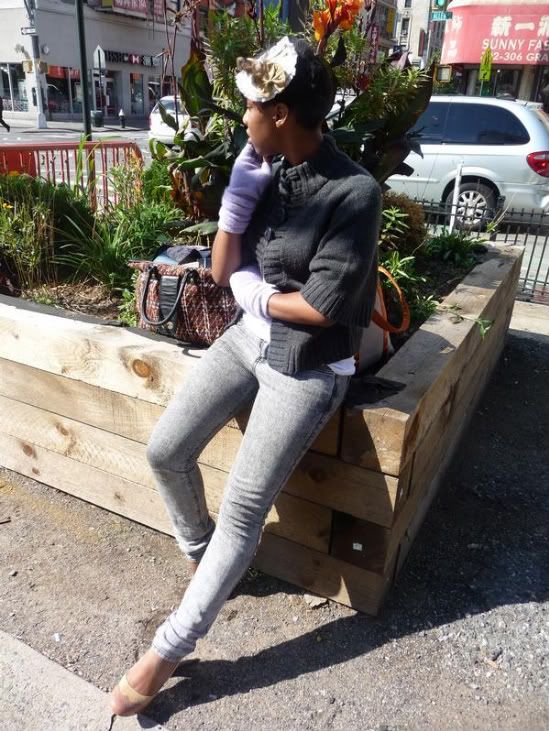 What is the most common fashion mistake you see in your city?
"Well the city I live in now, Philadelphia has more than enough mistakes. From the hair to the shoes, I don't know where to start. When it comes to shoes, it is not up to par like New York City (my in between home). It's sad to see people try to imitate what they see on TV and execute it horribly. What I hate the most is the way they wear clogs. I am already fickle about those, so to see a group of women wear it so wrong is disappointing. They wear clogs as house shoes, you won't see it worn stylishly, but more lazily (like with sweats and socks). In Philly, no one actually has their own style; everything is based on what someone else has done."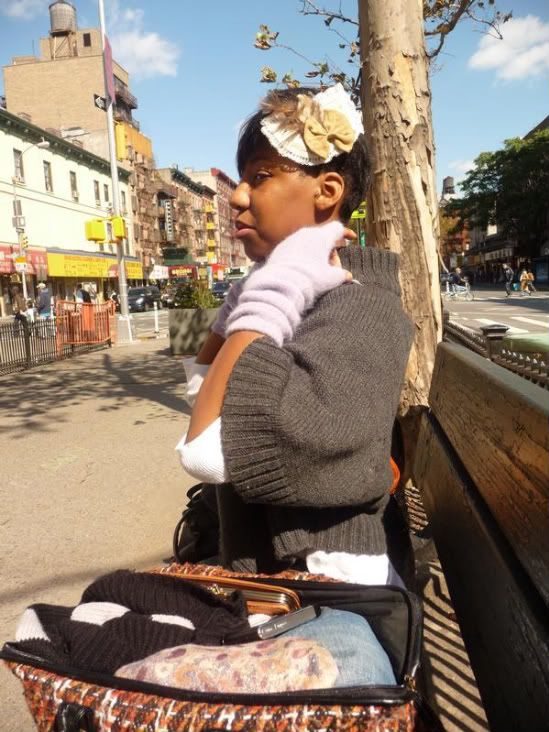 If you owned a shop, what would it be called?

"Well, I would definitely do a collaboration with my family, the most creative people I know. My mother who makes beautiful aluminum earrings http://www.artfire.com/users/inmyimageproductions while my father makes handcrafted beaded jewelry. Also my sisters; the designer and photographer would also be involved. It would have to be a joint shop that included our family's last name. We all have different names for our companies so that would be so hard."
"I would love for more people to look at my personal blog http://www.christielover.blogspot.com/. I haven't always been open to the internet, so since I am now you should take advantage! There you can check out my many other websites like Tumblr, Twitter, and my 365, where I get even more personal. I've been looking to get myself out there and socialize with others just like me. I want people to witness my journey. I want them to be able to laugh and cry along with me. To make it more bearable and fun, so please check me out."


As the twilight of summer approaches, those faithful cut off shorts and carefree flip flops seem to occupy less and less prime space in your closet. Nevertheless, there's no need to fret about the impending seasonal change. Autumn is the perfect time to elevate your style quotient. Finally purchase those luscious chocolate knee high boots you've fancied or even rediscover that chic yellow beret nestled in the drawer.

With the help of today's fabulous stylista, Fashionably Black is ushering in its first annual Transitioning to Fall series. Weekly, we will explore valuable tips and techniques to prep your wardrobe for the new climate.

How to layer
Mastering the art of layering not only makes weather related style adjustments possible, but is key to staying voguish during the cooler months. In essence, the secret to layering is –begin at the bottom. Foundation garments that offer maximum comfort –like a thin and breathable cotton blouse are ideal for the base of your outfit. A careful glance at today's stylista reveals her ivory t-shirt peeking through the ensemble is no doubt functional but comfortable as well.

Moving on to her outer layer, which helps to provide protection from the elements, we detect a charming charcoal knit button up cape. Because of its unique quality, knit is an excellent fabric to top any transitional look. Try throwing on a cozy knit cardigan before class or grab that hand crafted scarf grandma made last winter. Further adding to our stylista's ensemble are the alluring bone colored finger gloves, offering a touch of panache while keeping her hands warm.

Of course, as the daily temperature rises you need a spot to store the layers you begin to peel off. Enter the fashionable yet functional oversized handbag. Our lovely stylista selected a nice red and ivory plaid carrier to compliment her pewter cape. Whether made of cute canvas or luxurious pebble leather, a jumbo purse is the ultimate place to put your ditched attire.

Concluding this transitional look, today's stylista sports several season-less articles; a pair of acid wash denim jeans, dusty rose high heels, and a charming bow in her hair –all uniting to make a fabulous impression on the fall season.


How are you preparing for the upcoming fall season?
What items do you intend to purchase?